Krusty Burger
 is a fast-food burger restaurant chain that was founded by Krusty the Clown in Leacy City. It's known to use a variety of animal meats in it, without any of them being what one would normally eat, including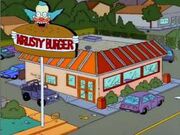 zoo animals, road kill,and insects.
Known Custumors
Edit
The Simpsons
The Pines
Craig's Gang
The Jones
Apperance
Edit
The Outside look Has orangeish and whiteish Walls And Has Clear Glass Windows And Clear Glass Doors
That Is One Good Newspaer
HeatWave
Animal City
Ad blocker interference detected!
Wikia is a free-to-use site that makes money from advertising. We have a modified experience for viewers using ad blockers

Wikia is not accessible if you've made further modifications. Remove the custom ad blocker rule(s) and the page will load as expected.