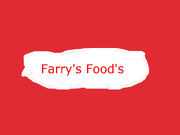 This Is A Food ComPany That ProDuces About 21 Food Items In The Series
Known Histroy
Edit
In Sam's Sad Day The Company Was Founed By Farry Houmsetron And Garry HellsHouse In 1578  And The Only Foods That Were Created Were That's a sweet Sweet,Chapions Chips,Karla's Croissants,and Parry's PRetzels As It Said On A Minty's Mints Box By A Near Ilse In Food n Stuff.In Day Of The Zomtoons Soos And Peter Were Chatting About How Long Garry Hellshouse Lived For BEfore Two Zombies Devoured Them.In Technolgy Inbots A LandSlide During The Grandiution Day Of Grey's Grem Engery Juice Drink And Falsters Falls Relased Was Inturtped By A Flood And Injured Farry Houmsetron.
Episode Aperances
Edit
.1. Birth Is A Beging: A Box Of Stripey stripes of the rainbow were seen
.2. sam's sad day: A box Of Minty's Mints on A Selve In ILse 33 of FOod aND STuff  Read Up Close "OH IT'S Farry's Food Since 1578 by Farry houmsetron And Garry HellsHouse"
.3. Day Of The ZomToons:Soos Samiuo And Peter Griffin Were Chatting About Garry Hellshouse And The Only Things They Talked About Him were his life AND Job Before two ZOmbies Devoured Them
.4.Tech inbots:The Graution And Landslide About The Relase Of Grey's Grem Engery Jucie Drink And Falsters falls was shown in a flash back but a flood interurtped it and injured farry houmsetron
Food Items
Edit
That's A Sweet Sweet
Chapions Chips
Karla's Croissants
Parry's Pretzels
Strippey Stripes
Minty's Mints
Grey's Grem Engery Juice Drink
Falster's Falls
Ad blocker interference detected!
Wikia is a free-to-use site that makes money from advertising. We have a modified experience for viewers using ad blockers

Wikia is not accessible if you've made further modifications. Remove the custom ad blocker rule(s) and the page will load as expected.