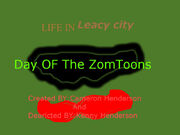 THis IS THe first or 1st Episode OF The Halloween SPEcil Number 1
After A Prank Gone Wrong In The Space Staion Kenny Is Killed And Comes Back As The Living Dead And Its Up To Cameron,ToonSmyth,StrverayBro,Stan,Kyle,CarTman,And Chef To Save Leacy City And Make Sure That EveryOne That Is Efeceted is Turned Into Back To NorMal
The Space Staion WAS Hovering And Stuff Untill Lamar Scares Barry And It Crashes Near The Bus Stop Killing Kenny In Progress HE IS THen TAken TO THe Mourge.While The Two Mougre workers are Testing Kenny's Boady  And Leave And When They Actendentily Spill Duff Sauce And 20 month Year OLD Medicne And A CUrent Fmelting Flesh Get INto The Embaliing Ligqued Tube And Reanamatieds Kenny Biting The Two Workers In ProGress And Leaving The MONTary.The Boys Of South Park See Kenny And He Apperars And They Get ON THE BUS.
Cameron Henderson
ToonSmyth Tamico
SteveRayBrO Maircky
Minor And Suporting
Edit
Barry
Pet HeadCrab aka Lamar
Stan Marsh
Kyle brosikio
Eric Cartman
Kenny Mcroick
The Two Sicentests From TAsty PLanet
ROcky
Paramedics
A Couple
A Polcieman
A PoliceWoman
Richard Get's a Job At Town Hall
[1]The Code From Fighters Fight From Gravity Fals akes An APerance AgAIn
The code Dipper uses to unleash Rumble McSkirmish Makes Another Aperance
The Krusty Crab Has a Strange Sign On It That Says" No Brains Here Zombies"
When Soos And Peter are Chating Garys Hellshouse didint live very long
This episode Makes Eric Cartman's First Speaking role
Ad blocker interference detected!
Wikia is a free-to-use site that makes money from advertising. We have a modified experience for viewers using ad blockers

Wikia is not accessible if you've made further modifications. Remove the custom ad blocker rule(s) and the page will load as expected.