Animal City
Is the 10th Episode Of Season 2 It Will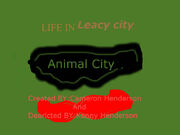 Air On October 2015.
The city of leacy city is qieut for the roomates and pepole who are non-human ,But how will they react to what has happened to the humans.
At the mystery shack Dipper and Wendy are about to Start Movie Night when Wendy realises she forgot her Purse and goes back to her house to get it,While she walks Lawrenece grabs her and says "I Found You Baby",Then the scene Cuts to his adpartment,Whlie Wendy screams that slowly turns into a vicous growl Offscrean,Wendy Arvies At the mystery shack as a wolf then scrathes Dipper but Dipper then wakes up and doesent react to Wendy's transformation and then says "Hey Wendy You Came Back,Wanna Have A Kiss Wendy",Wendy Then Happliy Growls And Kisses Him Not Before Scracthes His Arm With A Green Liquid From Wendy's Arm Dripping Into The Scracth,
Ad blocker interference detected!
Wikia is a free-to-use site that makes money from advertising. We have a modified experience for viewers using ad blockers

Wikia is not accessible if you've made further modifications. Remove the custom ad blocker rule(s) and the page will load as expected.